Citizens for Lexington Conservation promotes the enjoyment and appreciation of our natural environment through education and advocacy.
CLC is a non-profit organization in the town of Lexington, Massachusetts.
>> Join CLC (or renew your membership)
>> Recent Newsletter The February Newsletter is Here!
The Lexington 20/20 Vision Survey - last done in 2012 - is being updated. Please take 20 minutes or so to help our Town leaders know what we want in our community. (Open til March 31)
Community Discussion
Sunday, March 26, 1:30-3:30 pm
Citizens for Lexington Conservation is proud to be celebrating its 50th birthday this year.  To honor our birthday we are planning a number of events that will focus on the effects of climate change on the New England landscape and what implications this might have for our local environment, wildlife, and plant life.   Our first event, co-hosted by the Lexington Field & Garden Club, is a screening Urban and Suburban Meadows. The movie explains and illustrates the virtues and practicalities of replacing a conventional lawn with meadow landscaping.  In the movie, author and photographer Catherine Zimmerman weaves her personal journey of changing her own landscaping choices into a guide that demonstrates both the need to change current, detrimental landscaping practices and the practical know-how and resources to accomplish that change. 
Following the video, a panel of local experts with experience in creating natural backyard habitats will answer questions from the audience based on their own experience.  At a later date, to be determined, we plan to offer a tour of Lexington homes that have established such meadow-like environments.
This first event will be held in the large lecture room at Cary Memorial Library.  The event is free and refreshments will be provided.   Please join us for this video and panel discussion. 
Join us for the Citizens for Lexington Conservation annual meeting, held this year at the new Lexington Community Center, 39 Marrett Road.
Our speaker will be Tia Pinney, Senior Naturalist at Mass Audubon's Drumlin Farm Wildlife Sanctuary.
Her topic will be Climate Change Impact on Native Habitats and Plants.
Our New England flora and fauna have evolved over millennia to thrive in our particular climate. As weather and climate patterns continue to change, these organisms will be challenged to adapt and survive. How can we help to mitigate the impact and help ensure a healthy biodiversity in our area? We will talk about changes, predictions, and common sense regarding our local habitats and what we as concerned individuals can do in our own yards and in our communities.
Let us know if there is an upcoming event that should be listed here.
Citizens4LexingtonConservation@gmail.com

Joe-Pye-Weed in Dunback Meadow, August 2016 (photo courtesy John Andrews)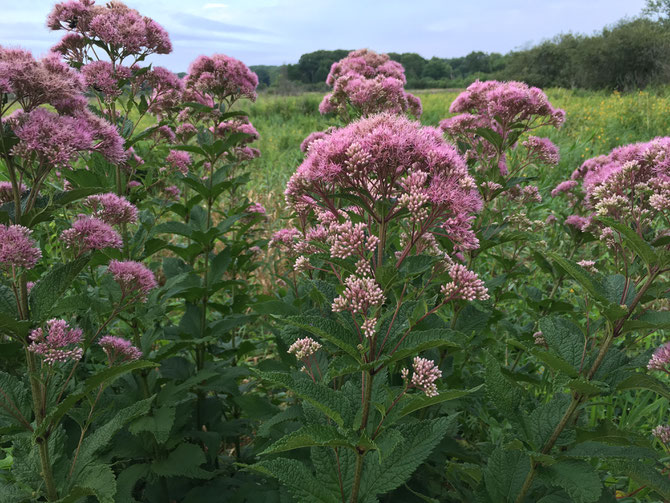 Are you looking for a new route to walk, run or bike?
ACROSS Lexington is waiting for you - try it!
You can find route information here.
ACROSS Lexington stands for Accessing Conservation land, Recreation areas, Open space, Schools and Streets in Lexington.
Please let us know if you would be interested in working with CLC in any capacity. Could you write a piece for the Newsletter? Lead a walk? Work on the website? Take a leadership role on the Board? Help manage marketing/outreach? Drop us a line if you think you can help - we always welcome new faces!

CLC is sponsoring a new program for children - the Junior Ranger Program - aimed at getting kids out into Lexington's Conservation properties with games and activities. In conjunction with Cary Memorial Library we have a booklet to guide children and their parents. The kids will visit several different Conservation areas, fill out some activity sheets that will guide nature observation, and can, upon completion, receive a Junior Ranger Certificate from the Library.
You can find the Junior Ranger booklet here.
New Trail Guide to Lexington's Conservation Land Now Available

 

The Lexington Conservation Stewards have created a new Trail Guide to Lexington's Conservation Land, which includes color trail maps along with descriptions and historical information for Lexington's 25 walk-able conservation areas. Covering nearly 30 miles of trails, it is an essential book for both veteran trail users and new explorers who'd like to discover the forests, fields, and wetlands in Lexington.

 

The Trail Guide to Lexington's Conservation Land is available, for a minimum donation of $10, at the Town of Lexington Community Development Office located in the Town Offices Building at 1625 Massachusetts Avenue. Proceeds benefit the Lexington Nature Trust Fund, which helps to care for our 1300 acres of public conservation land.

 

More information about the Conservation Department
Hennessy Field Restoration Project
PDF of Powerpoint by Jordan McCarron explaining work to commence August 2015 at Hennessey Field
Hennessey Field Restoration Project Pres
Adobe Acrobat Document
2.0 MB