Citizens for Lexington Conservation promotes the enjoyment and appreciation of our natural environment through education and advocacy.
CLC is a non-profit organization in the town of Lexington, Massachusetts.
>> Join CLC (or renew your membership)
>> Recent Newsletter The February Newsletter is Here!
Citizens for Lexington Conservation will hold its annual meeting on Thursday, April 5, at 7:00 pm in the large lecture room at Cary Memorial Library. Our featured speaker will be Professor Richard Primack, Professor of Biology at Boston University. The topic of his talk will be "Climate Change Comes to Thoreau's Woods: Effects on Plants, Birds, and Insects."  
Prof. Primack is an expert in plant ecology, conservation biology, climate change biology, and tropical rain forests. He has carried out extensive fieldwork in Malaysia, New Zealand, Japan, Central America, and other countries. He was the Editor-in-Chief of the international journal Biological Conservation and is the author of two widely used conservation biology textbooks for which 35 foreign language editions have been produced with local co-authors adding in examples from their own countries. 
For the past 16 years, Prof. Primack and his colleagues have been investigating the effects of a warming climate on the plants, birds, and insects of Massachusetts, with an emphasis on continuing the observations made 160 years ago by Henry David Thoreau in Concord. Prof. Primack also has been involved in educating the public about the effects of climate change through public talks, interviews, and popular writing, including a recent book about his work: Walden Warming: Climate Change Comes to Thoreau's Woods.
The meeting is open to the public. Light refreshments will be available, and Prof. Primack will have copies of his book for sale. Please join us. 
Candidates' Question – 2018
As part of its overall mission to enhance environmental awareness, Citizens for Lexington Conservation annually poses one or more questions to candidates for Town office and publishes their responses.  This year's question focuses on efforts by the Sustainable Lexington Committee. To date, actions proposed by the Committee and adopted by the Town have reduced our greenhouse gas emissions and improved our health while saving the Town and Lexington residents over $2.4 million per year. These actions include:
Solar Energy Systems on Town properties $   450,000 / year
Municipal Energy Efficiency Investments $   450,000 / year
Community Choice 100% renewable electricity $1,500,000 / year
What else should we do to ensure that Lexington's future is fully sustainable? Would you support the following proposals that have been developed over the past year by the Sustainable Lexington Committee:
Adopting the proposed Sustainable Action Plan
Adopting the proposed Sustainable Building Design Policy
Switching the Town's municipal electricity supply agreement to 100% renewable energy sources
These proposals have all been reviewed by the Board of Selectmen and will be under consideration for adoption by the Selectmen this year. If you are elected, which of these proposals would you support? Please provide a brief explanation of your reasoning. Details on each proposal and a copy of the question can be found by visiting: www.CLCLEX.org.
Please respond using no more than one page. Email replies are preferred, but typewritten and even legible handwritten ones will be accepted. Please put your name, precinct number, telephone number, email address, and the position you are seeking at the top of your statement. A copy of the question you are addressing will be printed in the newsletter, so you do not need to repeat it in your response.
Please send your response to:
Elaine Quinlan
21 Captain Parker Arms, Apt 11
Lexington, MA 02421-7042
Home and Cell Phone: 978-995-5794
Email: ejquinlan2@gmail.com
Responses must be received on or before February 5.
To Whom It May Concern:
We would like to inform you of a Citizens Petition in the March 26th town warrant that will request the town of Lexington to decrease the use of plastic by eliminating the use of thin- filmed single-use plastic bags (less than 4 mil.). These are the bags used at the checkout counter with the exception of those listed on the attached information sheet. Reusable bags are encouraged. See attached information sheet for a definition of an acceptable reusable bag.
This petition, if passed, would be a first step for Lexington to address the alarming speed at which the planet is being impacted by plastic pollution
We would greatly appreciate your signature as an endorsement of this petition to decrease Lexington's "plastic footprint." Thank you so much.
Sincerely,
Janet Moran
Joyce Greif
Debra Packard
Judy Pappo
B.Y.O.B LEX (Bring Your Own Bags)
oooooooooooooooooooooooooooooooooooo
Plastic Bag Ban Information Sheet
1. A group of Lexington residents sent a citizens petition to the Board of Selectman to eliminate the use of single use plastic bags in the Town of Lexington. This petition has been accepted by the Board and will be placed in the March 26th Warrant for the town meeting members to vote on.
2. This single use plastic bag ban is a first but significant step to decrease the plastic footprint in our Town.
3. Single use plastic bags less than( 4mil) are those which are used at checkout counters, supermarkets, general department stores, restaurants or takeout retail that offer the sale of/or display merchandise.
4. This ban would NOT include laundry or dry cleaning bags, newspaper bags, those used for loose produce or bags use to contain moisture or prevent leakage for frozen food, meat or fish.
5. Reusable bags are encouraged. These are multiple use bags with stitched handles made of fabric or thick plastic (excluding polyethylene or polyvinyl chloride) at least 4 mil and are machine washable.
6. The enforcement and penalty for violation of this ban is yet to be determined.
Plastic bags have a detrimental impact on the environment by blocking waterways and sewer systems, hindering the efforts of solid waste collection and recycling facilities, and choking, poisoning and entangling birds, sea life and land animals. High levels of plastic in its many forms contribute to global warming and collect in our bodies interfering with critical biofunctioning.
** By 2050 the oceans will by volume contain more plastic than fish
** Plastic takes at least 400 years to decompose continuing to release C02
Industry has made more than 9.1 billion tons of plastic since 1950 almost three quarters of which lies as waste throughout the planet - Associated Press.
Rwanda is one of more than forty countries where it is illegal to produce, import, use or sell plastic packaging or bags with the exception of that used by hospitals and pharmaceuticals. Plastic pollution in the soil has impacted crop production and the food supply for this country, as paraphrased in the New York Times.
Speak to a friend, neighbor and/or town meeting members about this most important citizens petition for Lexington to take this first step to decrease plastic use in Lexington
B.Y.O.B. LEX (Bring Your Own Bags)
Monthly Trail Walks in Bedford
The Bedford Trails Committee conducts free monthly Trail Walks in Bedford the first Saturday of each month.  Trail walks vary monthly, from strolls on flat ground to hikes with hills. For detailed info on current and future hikes, please visit: https://groups.google.com/group/bedfordma-trails 
Location We rendezvous at 9:45 am at the parking lot behind the Bedford Free Public Library on 
Mudge Way, and leave 10:10 am from the Trailhead designated on the BedfordMA-trails website 
Contact:        To Join if you already have a Google account, go to: 
https://groups.google.com/forum/#!forum/bedfordma-trails  and click "Join Group to Post"
To Join if you don't have a Google account, please send an email to: BedfordMA.trailwalks@gmail.com  and you'll be added to the Group.
The Wright Farm Barn, future home of Lexington's environmental education center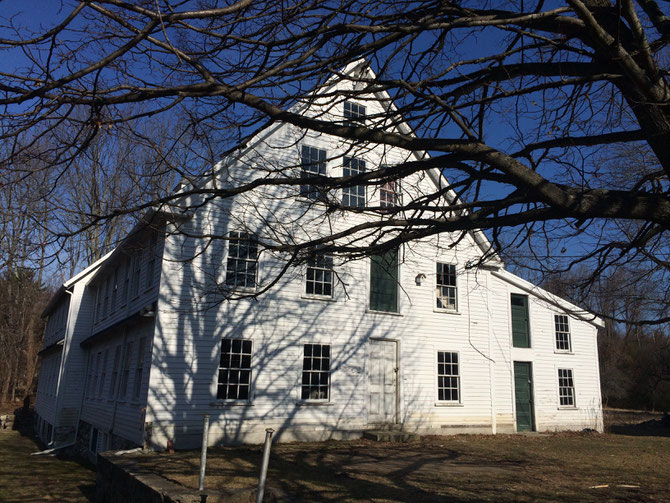 Let us know if there is an upcoming event that should be listed here.
Citizens4LexingtonConservation@gmail.com

Joe-Pye-Weed in Dunback Meadow, August 2016 (photo courtesy John Andrews)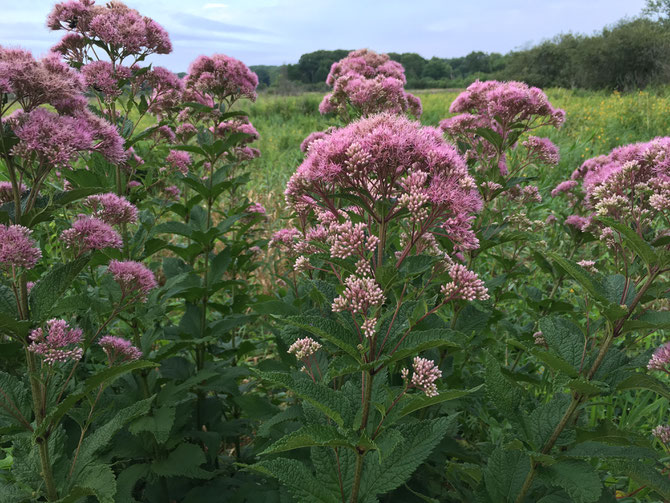 Are you looking for a new route to walk, run or bike?
ACROSS Lexington is waiting for you - try it!
You can find route information here on the Town website.
ACROSS Lexington stands for Accessing Conservation land, Recreation areas, Open space, Schools and Streets in Lexington.
Please let us know if you would be interested in working with CLC in any capacity. Could you write a piece for the Newsletter? Lead a walk? Work on the website? Take a leadership role on the Board? Help manage marketing/outreach? Drop us a line if you think you can help - we always welcome new faces!

Walks Publicity Coordinator: Each spring and fall CLC sponsors a series of walks in conservation and open space. We are looking for someone to focus initially on walks publicity, and eventually to organize and broaden the types of walks we conduct. 
Events Coordinator: Each year, CLC features a speaker on conservation, resource, or environmental issues. To deepen and enlarge our educational focus, we are seeking a new film/speaker coordinator to take on the tasks of identifying, scheduling, and publicizing videos and speakers. Our plans are to offer 3-4 events per year as an exciting new way for CLC to continue to raise public awareness regarding local, regional and national environmental issues.
Conservation Restriction Monitors: CLC is in the process of acquiring conservation restrictions (CRs) on five Town-owned properties that were acquired in whole or in part with Community Preservation Act (CPA) funds. We are seeking individuals who are interested in helping to complete the remaining CR applications for three of the five parcels and/or participating in the annual monitoring of the properties. 
Recording Secretary. This position involves taking minutes at Board meetings and filing any forms required to maintain our status as a nonprofit organization. 
If you would like to know more about any of these positions, please contact Eileen Entin (eileenhome@gmail.com, 781-862-6418).
CLC is sponsoring a new program for children - the Junior Ranger Program - aimed at getting kids out into Lexington's Conservation properties with games and activities. In conjunction with Cary Memorial Library we have a booklet to guide children and their parents. The kids will visit several different Conservation areas, fill out some activity sheets that will guide nature observation, and can, upon completion, receive a Junior Ranger Certificate from the Library.
You can find the Junior Ranger booklet here.